I can't tell you how many times I've heard that question from potential clients. People of color, especially the women are very concerned about this. I remember one of my first darker skin clients, she said I love your work, but I don't see any black people in your portfolio how come? Can you photograph black people? I told her sure I'm a professional photographer I can photograph any subject, I don't care what color they are. I told her if you're not happy you don't have to pay me. Since then I've developed quite a collection of darker skin clients. See a gallery of African American Skin Tones here. It's difficult to photograph people with dark skin complexion for several reasons. Another major factor is makeup, if your makeup artist doesn't know how to apply make up on multi color african american skin it can be a total disaster. At Wayne Wallace Photography you're in good hands! I know how to light dark skin and my fabulous makeup artist Mei Li Makeup knows how to apply makeup on dark skin. Tell all your friends that Wayne Wallace Photography is the best portrait photographer in Las Vegas for dark brown skin and african american skin color.
The Glamour Boudoir Portrait Studio Package is perfect for the woman that wants to get some sexy portraits done for herself or significant other.
| | |
| --- | --- |
| Click the BUY NOW button to the right to find out more about Glamour Boudoir Portrait Studio Package | |
The Basic Studio Portrait Package is perfect for the anyone that wants to get some nice portraits done for sharing with friends and family..
| | |
| --- | --- |
| Click the BUY NOW button to the right to find out more about The Basic Studio Portrait Package - For A Limited Time Only! | |
We've seen an increase in our number of fitness photography sessions lately. Everyone must be working out and getting in shape for the summer and fitness competitions!
After you've completed your fitness training goals be sure to come into the studio and get some great portraits so you will remember this time in your life.
Here's a few samples from a recent MMA fighter photography session.
Here's a few samples from one of our recent sexy boudoir portrait photography sessions. We have many special effects that we can apply to your photos. These pictures are straight out of the camera with our computerized automatic retouching and special effects filters.
We have many special effects and we are adding more all the time. Ask about our Master DVD product which includes all of our special effects.
We know you've always wanted to do it! Don't be scared! You deserve to treat yourself to a Sexy Boudoir Photography Session at Wayne Wallace Photography!
This is one of our most popular types of photo sessions. During your consultation we will figure out exactly what kind of photos you want to create. Our
makeup artist Mei Li
will help you figure out what makeup look will compliment the photos you want to create.
Class of 2012 we want you!
The Fashion Experience is dedicated to providing high school seniors with cutting edge contemporary fashion inspired senior portraits.
Wayne Wallace Photography, a Las Vegas based award winning portrait studio created The Fashion Experience to meet the demands of Las Vegas High School Seniors that want contemporary portraits that fit their unique style instead of the boring old-school pictures their parents got when they were in high school.
The Fashion Experience is looking for high school senior models! Visit http://www.thefashionexperience.com and fill out our Model Search form for more information.
Be sure to visit our Facebook page and group as well. We are having a Express Yourself contest and you could win a FREE Express Yourself Senior Portrait Session!
Class of 2011, if you still need pictures done it's not to late!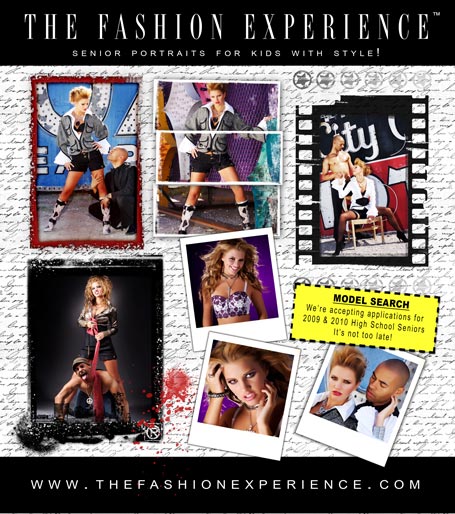 Welcome to the new Wayne Wallace Portrait Photography Blog! We will be posting information related to portrait photography, how to prepare for your portrait session, ideas and tips as well as samples of course!
Be sure to bookmark this page and subscribe to our RSS feed. You can visit this website directly by visiting http://www.wallaceportraitdesign.com